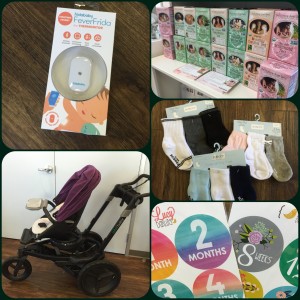 This morning on Fox 5 Sandiego, we showcased a few of the products we find helpful for new parents.
Lucy Darling Milestone Stickers- These adorable stickers help you capture the milestones of your pregnancy, baby's first year, and/or first holidays. Created by a graphic designer, their unique styles are trendy and cute. They are printed in the USA, as well!
Earth Mama Angel Baby Teas- These yummy pregnancy and breastfeeding teas are safe and 100% organic. They are formulated to support the entire journey of childbirth, from early pregnancy through breastfeeding and beyond.
First Year Calendars- These calendars are an easy way to record events through your baby's first year. They include stickers to mark baby's first tooth, steps, and more!
Aden + Anais Swaddles- These breathable, 100% cotton muslin swaddles are perfect for swaddling tiny babies. They are also very versatile and used by many as burp cloths, nursing covers, and stroller covers.
Fever Frida- No need to wake a sick baby to check their fever with a Fever Frida. Thanks to an tiny Bluetooth monitor and patch place
d under the arm, the Fever Frida checks baby's temperature every four seconds. It will alert your phone or tablet when the temperature goes about a predetermined threshold and continuously stores data for doctor visits and medicine dose reminders.
Robeez Kick Proof Socks- These 3 pack of socks have an elastic gathering at the ankle to ensure that the socks stay on. They also have skid resistant soles to help prevent slips and falls.
Sakura Bloom Ring Sling- These ring slings combine function with fashion allowing you to be hands free in a stylish way. The beautiful fabrics are paired with clean lines of modern design.
Nursing Scarves- These are the perfect accessory for mom! Wear as a scarf and unwrap for full and relaxed coverage while nursing. The 2-in-1 scarf is easy to use and wash. They are available in stylish prints to please mom's style.
Bassinest- Keep baby close by in the Halo Bassinest. The Bassinest is designed with a side wall that lowers and returns automatically so that you can easily get baby in and out while staying in bed. The breathable mesh walls keep your baby visible and the base is can adjust to fit different bed heights. The swivel feature rotates 360' allowing you to bring baby as close as you would like and making it easy to get out of bed.
Orbit 02- This stroller can go from trail run to coffee run. With dual seating modes, a reversible seat, a lockable front swivel wheel, an adjustable handlebar and multiple seat options, it's the stroller that lets you personalize your ride. The stroller base works with G2 and G3 Orbit Baby seats.