What a weekend!
Right after our Earth day sale, we dove in to the 'Great Cloth Diaper Change'. Like we need an excuse at Babies in Bloom to spread a little more love for cloth diapering!
In its sixth year, the aim of this super fun global event is to set a world record for the most cloth diapers changed at one time. At 11 am on Saturday, we hosted 19 parents and their little ones for the big change, followed by a colorful cloth diaper garage sale – cuties in cute diapers overload.
Last year there was almost 7,500 GCDC participants globally, we'll let you know what this year's global total was – hopefully a new record. A big thank you to everyone who came down to take part at the Boutique.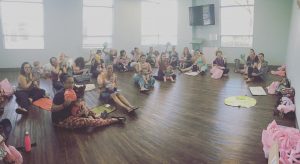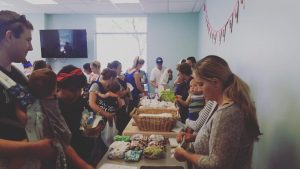 REDUCING YOUR BABY'S CARBON FOOTPRINT:
We all know and love cloth diapers for their environmental friendliness. It's one of many ways in which parents can help make a difference to our planet. With this in mind, and in the aftermath of Earth Day, we're celebrating the green power of parenting.
Here are some other unbelievably simple ways that parents can, and are, reducing their baby's carbon footprint:
BREASTFEEDING: Yet another bonus to breastfeeding: it's eco-friendly. It requires no formula cartons or containers to dispose of, and far less water due to avoiding all those bottle washes.
WIPES: It's easy to pull handfuls out at a time isn't it? And then find yourself using them all. The truth is, while there are some situations that will require a few wipes or more, most of the time half will do. Some parents chop their disposable wipes in half. A great idea. Or better still, some make their own washable wipes out of any soft fabric.
LAUNDRY: Babies and laundry go hand in hand, it's unavoidable. BUT, parents can do their best to ensure loads are kept at maximum capacity to reduce the number of washes needed and water used. Washing on a cooler temperature will also save tons of energy, as well as reduce bills.
DRYING: When it comes to drying laundry, the sun is every parents' ally, and cost-free! Air drying clothes, towels, etc. wherever possible, will save on energy. And remember, most stubborn stains on baby clothes just need a day in the sun to fade away.
FOOD: When the time comes for introducing solids, making food at home can really make an environmental difference, particularly if food has travelled less and is locally sourced. Homemade saves on using all those disposable food containers and cartons too- just invest in reusable containers instead.
OUTSIDE: Many parents opt to ditch the car and go on foot wherever possible. Kids can go in the stroller, on the bike, on the scooter…or if not possible, many parents turn to carpooling to minimize fuel usage.
REUSE: It is so easy nowadays to find gently used goods for short term items like bouncers and cribs, as well as toys and clothes. Giving these kind of things a new home can significantly reduce waste. And if you are going through a sea of unloved toys at home right now, don't forget to donate them – you've seen Toy Story right? Well-kept toys can always find love again in a new home.
Pretty simple changes that make a big difference, huh? Let's not forget, as mothers and fathers ourselves, we have our duty to Mother Nature too!