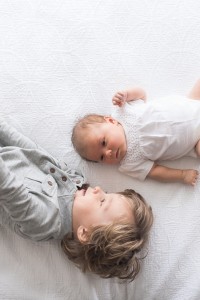 Sunday April 10th is National Siblings Day. Hooray for siblings and those siblings-to-be out there!
Anyone with a brother or sister will know that a sibling relationship can be the most important, influential, and often the longest relationship of their lives. Siblings know you inside out.  They get to know every quirk, trait and habit you have – like, love or loathe them – and from an early age can also shape how you'll interact with others. Think about all those fights you had as kids – skills young siblings learn in conflict resolution are valuable life lessons that carry in to other areas of life, from work to personal relationships. So those arguments were really all worth it right?
There are a load of myths surrounding siblings too. I bet you've heard a few of these before.
Firstborns have an IQ and linguistic advantage thanks to first time parents hyper focus
But youngest kids are the smartest in that they are fast to disarm people and develop resourceful strategies to get what they need
Younger siblings tend to be more extroverted than older siblings in bigger families
Middle children tend to get the least amount of parental attention
Siblings can make you shorter. No seriously, a British study of 14,000 kids found that those with three siblings were, on average, around one inch shorter!
How many of the above do you agree with in your experience?
Introducing a sibling/s to a brand new brother or sister for the very first time is a precious family moment – but also a rather nerve racking one. How will they react? Will they be jealous or feel replaced?  These are all valid and common concerns. Change can be upsetting for little ones and preparation is key. But where do you start making siblings friends? We say, it starts well before birth.
At Babies in Bloom we run a Big Brothers & Big Sisters class that supports your growing family. This class helps you figure out how to make your child/children feel included and excited in welcoming a new baby. Our class is designed for three – six year olds that are about to become a big sibling and includes bump introductions, crafts, a short film, as well as role play and new baby themed story time. Each big sibling-to-be gets awarded with a certificate at the end of class – just to get them beaming with big brother or sister pride! Just adorable.
For those interested in this class, check out our Calendar page for upcoming dates.