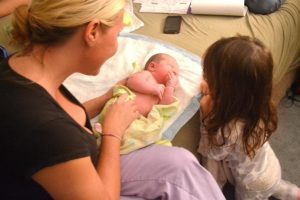 In honor of International Day of the Midwife this week (May 5th), we are taking a moment to celebrate the AMAZING work midwives do!
They strive tirelessly to ensure safe and positive birth experiences, and there is no finer example of this than the dedicated midwife in Houston who hit the headlines last month by riding an inflatable swan to a client during a major flood. Nothing was going to stop this woman from attending a birth!
It takes such a special type of person to be able to penetrate someone's life while they prepare to bring a brand new life of their own in to the world.  From building trust and forming a connection to offering support, advice and endless reassurance – midwives are rocks. What a lasting imprint they make on so many lives. We are so so grateful for their devotion, passion, empathy and strength.
Looking for a midwife?
Finding a midwife can be a daunting task. It is not a 'one size fits all' job – we know just how important it is to find the right person to share your incredible journey with. We have a healthy list of recommended practitioners listed here, but what are the next steps to help you try and make your birth everything you want it to be?
First, take your time. Don't rush this. We recommend checking out potential midwives websites –especially client testimonial pages. Don't forget to ask like-minded mama friends for recommendations too. After this research phase, you can create a short list of midwives for interviews.
For interviews, prepare a thorough list of questions covering all your areas of preferences and concerns. Ask them about their general pregnancy and birth philosophy to see if it mirrors yours. Ask them about their training and experience. Ask them what happens if you go past 42 weeks. Ask them what their newborn protocol is (these can vary greatly). Ask them anything that is on your mind. Even ask them about their own birth experiences if you choose…whatever it takes to build that all important trust and connection with them.
And last but not least, TRUST YOUR INSTINCTS. You will know when you have found 'the one!' Never stop listening to that voice inside your head, even if you have already found a midwife, but feel that something isn't quite right. Remember, mama knows best! Do what feels right for you.