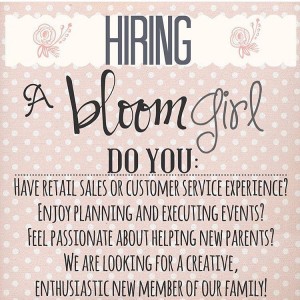 We are growing and looking for a new member of our boutique team!
Babies in Bloom offers items for expectant parents and babies, as well as unique gifts. Our team is committed to the promotion of safer, healthier and eco-friendly options for families with a strong focus on education and support.
Babies in Bloom provides:
An open, empowering work environment.
A supportive team that cares about your success as an individual.
A fair an flexible work schedule that puts family first.
Training that will improve your life, both personally and professionally.
An opportunity to make a difference in the lives of families every day.
A unique, family-oriented company culture.
Part-time available, with full-time growth potential in the future.
Do you have what it takes? 
The Babies in Bloom team consists of an enthusiastic, dedicated group of individuals that are passionate about the products we offer, and how they can make families' lives easier.
We invest heavily in training and have learned that staff excel best if they work a minimum of 2 shifts a week. A minimum 12 hours a week is expected.
A flexible schedule is an asset, as is experience in retail or sales.
Weekend shifts are mandatory. You must be able to work at least 1-2 Saturdays a month, although not always required.
A commitment of one-year of service is preferred, from the start of training.
You must be able to be on your feet all day.
Individuals must be passionate about selling pregnancy and breastfeeding products, natural cloth diapers, baby slings and carriers, natural toys, gifts and gear.
We are looking for employees who are friendly, enthusiastic, have great social skills, and love learning and helping others. To be successful you must be hardworking, easily strike up conversations with customers, take initiative, and know what it means to be professional, respectful and non-judgmental.

We're excited about the possibility of having new, energetic team members helping us in our mission. If this sounds like you, don't miss out an an opportunity to join our team! Please contact us as per the guidelines below.
Benefits
We endeavor to recruit the best people we can to become a part our team. At Babies in Bloom, we offer a work environment that empowers individuals to work independently, free to make decisions daily and manage their time in a way that is respectful of both employer and employee. We strive to create a respectful workplace, treat all employees fairly, and help team members work towards reaching their individual career goals.
As part of the Babies in Bloom team, employees enjoy:
Working for a family business that cares about you as an individual.
A fair wage, paid training, ample holiday time and the potential for annual performance-based increases.
A valuable investment in training time and resources.
Flexible working hours.
A generous store discount after 3 months
Occasional free samples of products and testers.
How to Apply
Please read carefully. Attention to detail is of utmost importance when working with our team.
Drop off the following in person or by email (rochelle@babies-in-bloom.com):

Your completed Application for Employment
A cover letter detailing why you believe you'll be a perfect fit for our team.
An updated resume.
Only those applicants selected for an interview will be contacted. Please no phone calls.