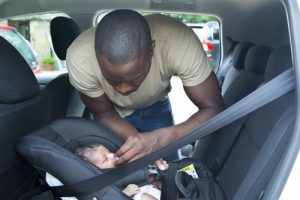 This Saturday is 'National Seat Check Saturday' marking the end of Child Passenger Safety Week 2016. This event invites families to have their child-safety seats inspected by certified car seat technicians. And by certified, we mean technicians that have hours and hours of training and experience in operating even the fiddliest of car seats. Like Katie, our Child Safety Passenger Technician.
Let's be honest, whether you are a new parent or a seasoned mom, car seat harnessing and installation can be tricky. Confusing. Even infuriating at times. I mean, even the likes of poor Prince William gets it wrong every now and then.
And don't even mention the rules. They feel like they are ever changing don't they?
But scary fact, did you know that seven out of 10 children ride in car seats that have not been installed correctly, or are in the wrong car seats for their age and size. According to the National Highway Traffic Safety Administration (NHTSA), approximately 96 percent of parents believe their child seats are installed correctly.
This weekend offers parents, grandparents, aunts and uncles, whoever, not only a gentle reminder to go check their equipment, but also offers lasting peace of mind in confirming a) whether or not they currently have the best tools for the job and b) if they are being utilized correctly. Not to mention a chance to brush up on the latest legislation.
You can call us to schedule an appointment or find participating locations for seat checks here: http://www.safercar.gov/cpsApp/cps/index.htm – though be warned it may get busy! You'll need your child, the car seat and the seat's manual, as well as your vehicle owner's manual. The technician will demonstrate proper installation and then have you do the installation so that you are comfortable and confident.
And don't worry, if you can't make it to a Saturday event, parents can also chat with Katie via Babies in Bloom. She would be happy to answer your questions because she knows when it comes to your own precious cargo, it's never too early or too late for a safety check.
Note, all car seats purchased at Babies in Bloom come with a complementary education and inspection.