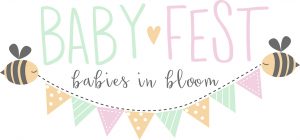 Our 2017 expo is over and our hearts are full!
The venue this year was on Babies in Bloom's very own doorstep, with over 50 tents and booths lining our sun drenched street. We can't tell you what it meant to us to peek out of the window at 9.30 AM and already see a long line of glowing mamas-to-be, their partners and other excited family members waiting to get in.
To all our visitors: thank you for letting us be part of your growing family's exciting journey.
And to our wonderful exhibitors: thank you for all the support, wisdom, reassurance and encouragement you shared with our guests.
Together, we formed quite a village at BabyFest 2017. A place where no question was too foolish, no fear went unheard and where judgement simply wasn't tolerated. Because we know that no two families are the same – each will tell their own beautiful story in their own special way.
For those that couldn't make BabyFest this year, you can still visit some of our booths virtually!  Check out our BabyFest 2017 Facebook event page. A roaming camera at the event filmed live action at booths to give those at home a sneak peak of some of the wonderful products and services showcasing at the event.
We also dare you not to smile when you see the Groovaroo impromptu flashmob dance that took place on the street. It's AWESOME! Check out the baby snuggling dance moves here  – plus take a look at the new Baby TULA 'Free to Grow' carriers being used (usable from 0+ – 4 years!). Groovaroo classes are hosted regularly at the boutique – check out our events calendar for more info.
For many, the expert talks are always an expo highlight. This year, we had certified babywearing educators showcasing the different types of baby carriers out there in the market, as well as Jennifer Aprea from Spray Pal answering all sorts of questions about cloth diapering. Our car seat safety expert Katie, was also on hand to explain the latest laws to parents and help them choose the right seat for their family.
'Meet the Midwives' is also an annual favorite. These local midwives couldn't love their job any more and have delivered thousands of beautiful babies between them. They know more than anyone that how you birth matters and are committed to delivering a personalized experience to each and every family to help them have the birth they have always dreamed of.
If you missed the talks, don't worry! The boutique regularly hosts classes and workshops on these topics and much, much more – from lactation and hypnobirthing to first aid and sleep coaching. You can also book car one-on-one seat safety checks with Katie via the boutique – free if you purchase a seat from Babies in Bloom. Again, just visit our events calendar page for more details.
So, while we're sorry you couldn't all make it down to BabyFest 2017, it's never too late to join the Babies in Bloom family. Our doors are always open – hope to see you soon!