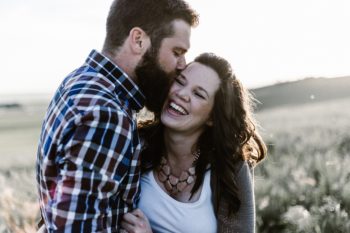 Cue bad (like, really bad!) 90's dancing.
Let's talk about sex, baby
Let's talk about you and me
Let's talk about all the good things
And the bad things that may be….
And by this, we mean let's talk specifically about sex AFTER baby. The good, the bad and the plain ol' feeling ugly.
How long did you wait? Or for those currently pregnant, how long do you think you will wait after birth to have sex….?
Don't worry, this isn't a test. While most healthcare advisors recommend somewhere in the range of four weeks to six months postpartum, it's not concrete. In truth, it might be earlier, or it might be a lot longer – it all depends on when you feel ready. Both physically and mentally.
When it comes to sex, the majority of us will opt to use humor to talk about it. Because it's not easy to talk about sex seriously is it? We blush. We avoid. We conceal. We hold back.
Well not today!
We're going to say what we've all thought or have been thinking- and say it out loud. THINKING ABOUT SEX AFTER HAVING A BABY CAN BE SCARY!
Post birth, while you KNOW your body is amazing, you also don't really KNOW your body anymore. Not only does it feel different and look different, there's that fear that anything 'down there' is reeeeally going to HURT! Let's be honest, we're still a little traumatized from the first bowel movement fears after birth, let alone thinking about letting anything in! And for those who experienced tearing and stitches, the anxiety about sex pains can be further heightened. Ladies – we hear you! All of you.
The truth is, it may well feel a little awkward and uncomfortable at first – one of the reasons is your estrogen levels drop right down after birth and remain low while nursing – this can lead to vaginal dryness. So first's things first, don't go in expecting perfection – ideally go in after a small glass of wine, loaded with giggles and lots of lubrication! Tell your partner about your fears– let him know that you are worried about discomfort, so that you can set the right pace for you.
Of course all of the above assumes that you are both ready and raring to give it a go. Many take longer to get to this point and that's ok too. Did you know that the oxytocin that is released when you are nursing suppresses your libido? There's that, and then there is the lack of sleep, the diapers, the nursing, the stretchmarks you are so paranoid about…. it can all culminate to a very unsexy cocktail called 'Not tonight Sweetheart!'! This cocktail far from puts you in the mood.
If this is how you feel right now, then big hugs from us. Please believe us, this too shall pass. Just like you feel you may never sleep again, be able to 100% focus again, or get in to those old jeans again – eventually you do! You WILL have good sex again – it just takes time, patience and honesty with your partner. Keep him emotionally and physically updated to ensure he doesn't just feel plain old rejected.  You WIILL find your confidence again. In fact, to end on a high, many moms actually say that they enjoy sex MORE after kids. Perhaps they feel more empowered by their bodies. Perhaps birth awakened something in their bodies. Perhaps it's all the fun quickies that you have to weave in to your parenting routine, (because you have to take the moments when you can, and if it's 1:20 in the afternoon, then so be it!). Whatever it is, know that post birth you will be desirable, you will be desired and you WILL feel your own desires return. Be patient with yourself, and most of all, be kind to yourself!