Boutique Best Sellers: Re-Play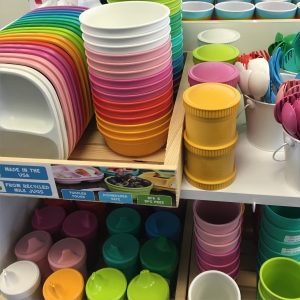 These colorful plates, bowls, cups and utensils from Re-Play are flying off of our shelves at the moment.
They tick so many boxes that it's no surprise to us that they're getting rave reviews from parents. Not only are they fun and funky to mix 'n' match, they are also incredibly affordable. Best of all, they are so eco-friendly. Made in the USA, Re-Play uses recycled HDPE plastic for their products – that means recycled milk jugs. To date, they've saved over 11,000,000 milk jugs from going in to the landfill. Wonderful!
The products are all toddler friendly sized for snacks and meals, and more importantly, are toddler tough to survive all those inevitable bangs, drops and tosses. Our customers have been really impressed with how durable they are for something so lightweight and so low cost. Re-Play claims you can even run over their divided plates with a car without causing damage! Now that's impressive.
They make a great gift bundle too. All products meet FDA strict purity standards, are BPA free, PVC free, phthalate-free and melamine-free. And, when their time is eventually up in family homes, these products can simply be recycled again. It's the eco-gift that keeps on giving.
Here's a couple of facts to add some further perspective on these clever tools:
Recycling a 1-gallon milk jug saves enough energy to keep a 100-watt bulb burning for 11 hours
One pound of recycled plastic saves enough energy to charge a smartphone for 31 weeks
As well as using smart materials, each product has a smart design with tiny, over excited hands in mind. The deep walls on their divided plates help little ones get to grips with their chunky cutlery, while their deep fill spoon reduces spills. They also have the essential spill proof sippy cup and blunt tips on their forks to avoid nasty pokes. They are all about encouraging independent eating and keeping it simple for mom and dad- as well as keeping it safe.
Available in white, pink, orange, green, red, purple and yellow, these products will stack well at home and are completely dishwasher safe – another bonus.
We currently have in stock:
Divided Plates: $3 each
Bowls: $2.50 each
No Spill Cups $4 each
Tumbler Cup: $2.50
Utensil Set: $1.50
Kids love them. Parents love them. We love them. Why don't you come and visit us at the Babies in Bloom Boutique to take a look for yourself.
Hope to see you soon!