Our Boutique
Babies in Bloom has a wide selection of natural products for mothers and mothers-to-be, your baby and family.From cloth diapers and baby carriers, to breastfeeding supplies, organic clothes, wooden toys and more - Babies in Bloom is your one-stop shop for unique items for your little one.
Feel overwhelmed when trying to choose the right product? We are happy to answer questions and explain how items work so that you have the information you need to make the best decision. All of our sales associates are certified bra fitters and can ensure that your nursing bras fit correctly. 
Need to get a little something for you or someone you love, but live a little too far to pop in?
We are happy to take orders over the phone and mail them to you! We also offer curbside pickup, if your little one is asleep in the car.
Babywearing
"Babywearing" simply means holding or carrying a baby or young child using a cloth baby carrier. Holding babies is natural and universal; baby carriers make it easier and more comfortable, allowing parents and caregivers to hold or carry their children while attending to the daily tasks of living. Babywearing helps a new dad put a fussy newborn to sleep. It allows a new mom use both hands to make a sandwich. It lets an experienced parent or caregiver carry a baby on her back and wash the dishes, do the laundry, take a hike, or weed the garden, all while keeping the baby safe and content.
Cloth baby carriers come in an endless array of fabrics and colors, from basic solid cottons to exquisitely embellished silks. Whether you're looking for something to use every day, a carrier for a special occasion, or slings to match every outfit, the choices are yours to make, whatever your personal style. Your baby carrier (or carriers) can be both functional and attractive.The array of baby carriers available today can be a bit overwhelming, but don't let that keep you from finding a carrier (or a few) that work for you! Ask one of us for assistance, schedule a private consultation or join us for our Babywearing 101 class on the second Saturday of each month at 11 am.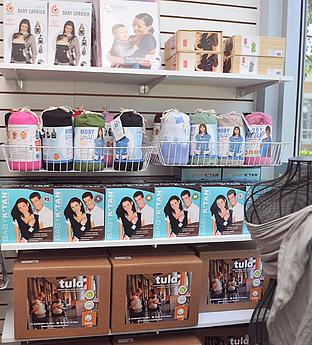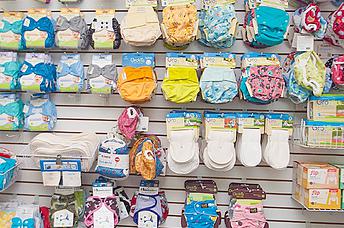 Cloth Diapering
Babies in Bloom is proud to offer the largest selection of cloth diapers and accessories of any San Diego retail store. Our supportive staff is happy to answer your questions to help you choose the perfect system for your little one. BumGenius, Grovia, Thirsties, Bummis, Imse Vimse, Sustainable Babyish and Snappies are some of our most popular brands.
We offer a Cloth Diapering 101 class each month for a more in-depth introduction. Babies in Bloom also proudly hosts several "Cloth Diaper Garage Sales" each year to bring used cloth diaper sellers and buyers together.