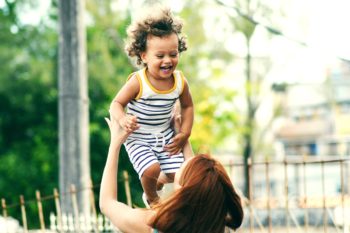 Not everyone is lucky enough to have trusted close friends and willing family nearby to babysit. And for those who don't, finding the right person to trust can be HARD.
Sure, you've had people generously offer. You've had locals moms tell you that their teenager is always available. You've heard from a friend about a great professional sitter that she uses. But when you don't know someone all that well, or at ALL, the thought of leaving your little one with them can be daunting. In fact, the thought alone can put you off the idea of even having a night out in the first place…
But you need that time mama. You need some time off. And more than that, you deserve it!
At Babies in Bloom, we know exactly what you should be looking for in a babysitter – because we have a dedicated program that trains them right under our roof. The Child & Babysitting Safety Class is a hands-on community education program designed to teach youths, age 11 and older, basic care techniques and child safety – everything from home safety and diapers, to choking and CPR.
For those currently in search of Ms. (or Mr.) Right, here are some of our top tips:
Maturity Level: While The American Red Cross says parents shouldn't choose someone younger than 11 to look after their baby, some say 15. Others even older. It all depends on the context, as well as your personal comfort level, the age of your child, their needs (diapers? Feeding? Lifting in to high cribs?), the length of time you will be gone, and of course, the sitter's own maturity level. Take ALL of these factors in to consideration if you are contemplating using a local teen. Why not have them assist you at home for a few afternoons or evenings first? It's a great chance for you to see them in action.
Knowledge Check: Whatever their age, you'll want to know how a sitter would think on their feet. Ask them if they know basic First Aid? CPR? The Heimlich maneuver? If they are a local teen and it's a no, ask them if they would be willing to learn. Also run 'what if' scenarios by them, e.g. 'what would you do if the baby had a fever?' etc. This will not only reassure you, but could also highlight significant knowledge gaps for potential eager young sitters to work on.
References: If you are using a professional service, check their references. At least two. Yes, they might have been pre-screened by the agency, but this doesn't always mean satisfied families. Reassurance from other parents is gold!
Routines: Once you have found your sitter, make sure you go through your child's routine together – when they go to bed, food allowances, VIP toys to aid sleep etc. And don't forget to clarify communication routines. Leave both your numbers. Do you want a text message every hour for reassurance? Would you want the sitter to call you to let you know when they are asleep? Would you prefer the sitter to not call at all and ONLY call in an emergency? Let them know your expectations.
The Just In Case Details: While it's unlikely you will need it, tell your sitter where your first aid kit is, the flash lights, the fire extinguisher etc. Also leave behind the number for your child's doctor and a neighbor who can be contacted for help. Covering all these worst case scenario bases will leave you feeling surprisingly more confident when you walk out the door.
Finally, remember to share your good fortune! If you strike gold and uncover a dream sitter, tell your friends! Not only will the sitter appreciate the additional business, you'll be an absolute HERO to all those other moms out there dreaming of a well-earned night off!