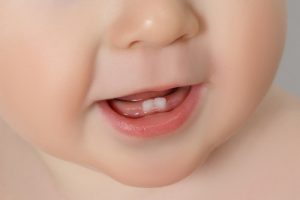 Christmas may only feel like last week, but somehow we find ourselves hurtling towards February 2017.
February brings a lot to smile about however. Quite literally – it is National Children's Dental Health Month, a month where thousands of dental professionals join together to educate and support both parents and teachers on oral health and hygiene.
The older children get, the more sugary temptations they face, and while there is nothing wrong with an occasional treat, this year's campaign asks parents to be mindful of the impact regular fruit juices and sodas can have on little teeth. The 2017 slogan is: "Choose Tap Water for a Sparkling Smile" – you can find lots of fun activities, coloring sheets and 2017 campaign posters for home or school here.
But enough of the bigger littles. Let's talk about the little littles and how / when to start taking care of their tiny choppers.
While baby teeth aren't forever teeth, their health, and the health of tiny gums, can impact future permanent teeth as they are important space holders for the 'big' teeth that are growing under the gums. A good set of teeth will also help an infant chew, speak and smile, so…..
START EARLY.
You can introduce oral hygiene practises even before the teeth come in. The American Dental Association suggests starting from as early as two days old. You can gently wipe the gums after feeding with a clean, moist gauze or washcloth.
When a tooth, or teeth, do eventually pop through (ouch!), start taking good care of them ASAP. The American Academy of Pediatric Dentistry says that: "Parents should use a tiny smear of fluoride toothpaste to brush baby teeth twice daily as soon as they erupt and a soft, age-appropriate sized toothbrush. Once children are 3 to 6 years old, then the amount should be increased to a pea-size dollop and perform or assist your child's toothbrushing. Remember that young children do not have the ability to brush their teeth effectively."
ASK YOUR DENTIST ABOUT FLOURIDE.
The right amount of fluoride can strengthen tooth enamel as teeth are forming. Let your dentist evaluate the fluoride level of your drinking water – he may suggest fluoride supplements. Both the ADA and the AAPD recommends that Baby get his first dental exam at age 1, or when his first tooth appears.
MAKE IT FUN.
Not all children will enjoy having their teeth cleaned. Some will despise it –especially if their gums are already sore from teething. Just be patient and be gentle! If old enough, try distracting them with a silly song, or just let them play with the brush to satisfy their curiosity. As they become more familiar with the tool, you might even find them sticking it in their mouths, all by themselves.
Like most things, if you start and support early enough, you will instil good dental habits for years to come!
We always stock a range of teething and dental hygiene products in our Boutique, so please, feel free to pop in for a visit and take a look around. Teething can be hard for both baby and parents – trust us, we've been there! We're here to listen and help where we can.