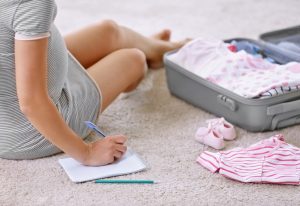 So, there's only a handful of weeks left before you welcome your little one in to the world. Excitement doesn't even begin to cover it!  You might also be wondering… "What do I pack in our birth bag?"… especially if it will be your first experience in a birth center.
It's common to stay at a birth center around four to six hours after the birth, meaning you won't need to pack as much as you might for a longer hospital stay. There are also more home comforts at a birth center – from full kitchen facilities to bath tubs to soak in – which again can influence what you might want to bring with you.
To help you get started, we've pulled together a recommended checklist for you. Use it as a rough guide and simply add to the core list to personalize it for you and your partner. Remember, if you have any questions or worries, don't hesitate to call your birth center – they are there to help you get the birth you've always dreamed of!
Things to pack for you:
Insurance card and phone number
Comfortable clothes (and shoes / slippers) to wear during labor, (and perhaps a sports bra / bikini top if a water birth is your preference)

Top tip: if you are planning a photographer to capture this special arrival, think solid block colors and minimal logos for both you and your partner

Headband and hair ties to keep hair out of your face during delivery
Favorite drinks – think juice, coconut water or electrolyte drinks – and nourishing snacks for both labor and postpartum.

A lot of birth centers like ours, have cooking facilities for you to use, so you can even some of your home cooked favorites with you for a well-earned post labor treat!

Essential oils and massage oils
Back labor massage tools
Rice sock / heating pad
Books, magazine, games for relaxation
Hand-held fan
Your preferred toiletries  – we'd recommend some soothing lip balm too.
Glasses / contact lenses and solution
Phone / camera / video camera, plus chargers
Call list (if you're old school and like to have a hard copy)
Music player – for your relaxing labor playlist
A fresh nightgown, nursing bras and spare old dark underwear for post delivery
Maternity pads
Comfortable going home clothes
Loose change for unknown expenses, like parking fees. Just in case.
Things to pack for Baby: 
A few different outfits and hats – including accessories for newborn photos, plus the outfit you want baby to go home in
Blankets, including a swaddle blanket
Cloth diapers (if choosing to go cloth) or disposable diapers
Wipes
Burp cloths
A gift from baby for big brother or sister for that precious first meeting
Infant car seat

We'd advise playing around with the seat prior to baby's arrival, just to ensure you feel confident installing the seat in the car, as well as securing baby safely in the seat. If in doubt, go to a car seat inspection spot for installation support.
Just to be super prepared, you might also want to pack a hospital bag in case of transport, consisting of additional spare clothes, pads, toiletries, diapers, wipes etc.
We hope this helped. Good luck mamas to be, you will be great. You've totally got this!