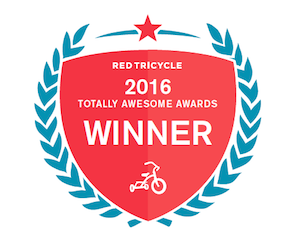 We won a 'Red Tricycle Totally Awesome Award 2016'. Hooray!
We are absolutely thrilled to be named 'Hippest Baby and Maternity Shop' in SoCal. Thank you so so much to everyone who voted for us – you guys are the best. And you ALL need to share this wonderful moment with us, because we are much more than just a business, Babies in Bloom is a community. A place to not only shop, but learn and share family experiences, whatever your parenting style (no judgement here!). You make us who we are and that's a big part of what makes us winners.
Some wise old soul once said: 'Customers may forget what you said, but they'll never forget how you made them feel.' And we truly believe that. We aim to make all our customers feel heard. Feel supported. Feel excited. Feel inspired. Feel confident, and just feel special – like every mama and mama-to-be should. Daddies, grandparents, siblings, aunts and uncles too. The whole family.
And thanks to you, we feel pretty special right now too. So from the bottom of our hearts, thank you once again for taking the time to vote for us. And thank you for shopping small. We hope to see you really soon!