Your North County Guide to Stroller-Friendly Ways to Enjoy Spring
If you're not originally from Southern California, it probably is very difficult to convince you that we have more than one season. For the rest of us, we're already feeling a change in the wind, the sky is more blue, wildflowers are popping up along the roadways. Breathe it in; March 20 marked the first day of Spring.
The short days are gone, that early morning pull-the-covers-over-your-head chill is fading away, and gone are all those other excuses we use to avoid braving the great (local) outdoors.   
Listen, we get it. You might be a new mama still recovering from childbirth, trying to take it easy. Or, you have your hands full with two under two and the idea of juggling multiple children outside the safety of your home is just too much to think about on such little sleep.
For those of you, baby steps might be the key. Even a short stroll up and down your street could work wonders. Start small. Ten minutes a day for one week will help you work your way up to 30 minutes and beyond. Every little bit, or every little step in this case, counts.
Once you get comfortable enough going out with your little one(s), you may run into a familiar problem — cabin fever. You're finding any excuse to get out for a drive, run an errand, and inevitably, that often turns to more shopping, and more spending. Before you know it, you're wondering if these little trips need to be factored into your monthly budget long term.
Doesn't sound like you? Well, maybe you're getting tired of your neighborhood walk, walking past the same houses, landmarks, and stop signs every day. You're itching to get out, but motivation can get hard to come by. We've all been there.
You could also be new to the area, and now a new parent with a lot of time alone with a baby, and you're not sure where's the best place to go.
Consider our "Stroll into Springtime" Series as your one-stop solution. Every couple weeks, we'll share with you a few North County spots you may not yet know about, or have forgotten about, that are baby-friendly, free (with some low cost options sprinkled in), and most importantly, outdoors and beautiful. What are you waiting for? Lace up those shoes, pack that stroller into the trunk, and let's go!
Discovery Lake and Hills Loop (San Marcos, CA) – 0.8 mile loop
650 Foxhall Drive, San Marcos, CA 92078
Free & Stroller & Baby Carrier-Friendly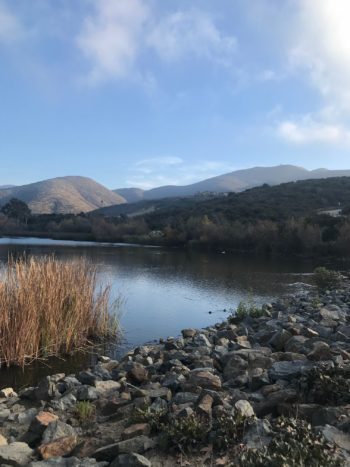 Discovery Lake has a bit of a "best kept secret" feel to it, but is becoming more and more popular — for good reason. This walking trail is the perfect way to integrate yourself back into the outdoor life for new moms. It's also an ideal walking trail if you want to walk with anyone who can't handle a hilly or uneven surface.
Tucked in the quiet Discovery neighborhood near Cal State San Marcos, this lake is surrounded by an 0.8 mile paved and relatively flat loop, making it a versatile walking trail. You can bring your dogs on leash, ride a bike, or walk with your little ones via baby carrier or stroller. The loop is just long enough to have a short walk, but short enough to go around a second or third time if you are up for it. The lake and surrounding overgrowth and trees provide shade and picturesque scenery to walk through. Even during high traffic times, the path is wide and long enough to not feel crowded. A little added bonus is the open access dock if you want to get closer to the lake, and a nearby (recently upgraded) park.   
This is also the perfect place to walk if you have multiple children to entertain while getting in your steps. A common sight is kids on scooters or bikes alongside their parents pushing strollers. There are scattered benches, some even a bit tucked away, that are the perfect places to stop and easily breastfeed. If you want to make an afternoon of it, the park has some open grassy areas and picnic tables where you can snack while the older kids play on the playground.
Calm, peaceful, easy. What more could you ask for? Not much, but if you are asking for something more adventurous, there are connecting trails surrounding the loop, to include a moderate uphill hike, Double Peak Trail.
Insider Tips:
Weekdays are the most quiet, with less foot traffic, especially if you plan to visit the park area.

Sometimes after a good rain or if its extra humid, this trail can get a little "buggy."

The park itself has a small parking lot, but there is usually plenty of open street parking available.

Restrooms located next to the park, but they don't usually have hand towels or dryers, so pack wipes (like we needed to tell you that) just in case.
San Diego Botanic Garden (Encinitas, CA)
230 Quail Gardens Drive, Encinitas, CA 92024
Entrance & Parking Fee; Stroller & Baby Carrier-Friendly
9:00 AM – 5:00 PM daily (open every day except Christmas)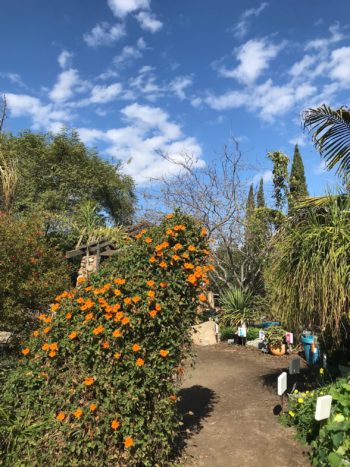 If you're looking for a fun outing for kids of all ages (and adults for that matter), the San Diego Botanic Garden (SDBG) has all the makings of the perfect outdoor experience. Formerly known as the Quail Botanical Gardens, this garden features a diverse collection of plant life like you have never seen before. The 37-acre grounds are divided by 29 themed gardens, highlight regions from Africa to Hawaii, Australia to San Diego, and feature nearly 4,000 different species. There are some semi-steep hills to navigate as you make your way around the garden, as well as some dirt, unpaved trails you can also take, which will give you a little workout as you marvel at the beauty nature has to offer. All in all, the walking paths total about four miles!
The biggest selling point about this place is how kid-friendly and educational it can be. Kids have a special part of the garden just for them called the Hamilton Children's Garden, which features Toni's Tree House, a wonderful playground in the form of a tree-house that will sure to be a popular attraction for any active child. Garden Rhythms features musical instruments made out of natural materials that kids can use to make their own special melodies. There's even a small mountain stream that kids can play with. The garden also has some boats and small toys around the stream. Just the other day, we caught sight of a couple children working together to build a dam out of blocks and other items at the stream site.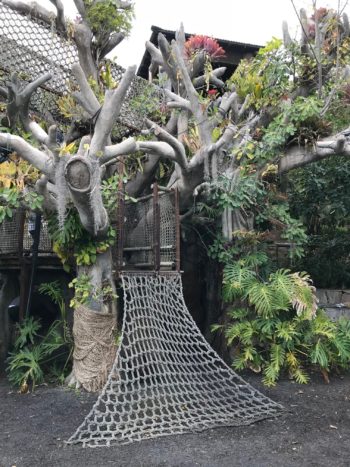 SDBG also has the Seeds of Wonder Children's Garden located on the other end of the grounds that features all sorts of kid-friendly areas of play. They also put together a program for children that includes arts and crafts days, and preschool stories and songs depending on the day of the week. These activities are included with the admission price, or if you are an annual member.   
On top of being kid-friendly, this place is also mom-friendly. There are many different seated areas, and a few picnic style tables in the Hamilton Garden area and Seeds of Wonder Garden to rest, breastfeed, or have a nice snack or lunch comfortably.
SDBG's mission is to "inspire people of all ages to connect with plants and nature." It's clear that they really take to heart the desire to reach people of all ages including our littlest humans. For adults, in addition to the intrinsic benefits of walking through such beautiful grounds, SDBG also hosts events year-round like their Chocolate Festival on May 12 and various classes on Sustainable Gardening and how to make a Vertical Living Wall, just to name a couple.
Insider Tips:
Even though this is a popular spot to visit, the vastness of the grounds makes it hard to ever feel crowded.

If you are a local, we strongly recommend considering a season pass. The family/dual pass covers admission for two adults and their children (and/or grandchildren) under age 18 in the household and costs $85 for the year, or $160 for two years. Membership offers many perks to include discounts on birthday parties and other events, discounts to the gift shop, free parking, two free guest passes per year, and

more

.

SDBG also has an upcoming special for Active Duty U.S. Military Personnel and families. From May 1, 2018 through Labor Day, September 3, 2018, they will be admitted FREE to the Gardens.  Another special is offered to San Diego County residents.

On the first Tuesday of every month, local residents get free admission with a photo ID (parking fee of $2 is still required).
Self Realization Fellowship Hermitage & Meditation Gardens (Encinitas, CA)
215 W. K Street (between 2nd and 3rd Streets)
Free & Baby Carrier-Friendly
Open Tuesday – Saturday 9:00 a.m. – 5:00 p.m., Sunday 11:00 a.m. – 5:00 p.m., Closed Monday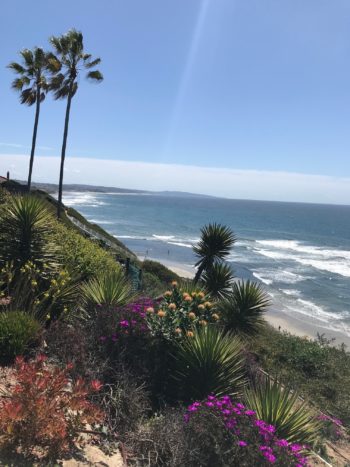 The name of the game this week is calm, easy and peaceful. The first two spots are just that. But, the Meditation Gardens in Encinitas might take the cake. This expedition, however, will not work too well with a stroller since the walkway includes areas with a few steps. Still, what better excuse to get more acquainted with your Solly Baby Wrap or Tula Baby Carrier?

The internationally renowned gardens offer a relaxing, yet awe-inducing kaleidoscope of plants and stunning ocean views. The tranquil grounds feature meditation nooks, koi ponds, and though the walking path is not very long at all, it is the perfect spot to take your time and cycle around as often as you'd like. Once you step foot into these gardens, you'll appreciate moving a little slower and taking some time to breathe in the fresh ocean air.
Like the other two locations featured this week, this quiet place also has great shaded seating  where you can peacefully feed your baby or practice some quick meditating while your little one sleeps (IF they are sleeping, that is). While this may not be the most exciting spot for toddlers to spend a lot of time, it is generally a family-friendly location. Just be sure to respect the other guests, some of whom are trying to tune out noise and meditate to the sounds of the ocean.
One perk about the Meditation Gardens is that it is the closest location this week to a beach, Swami's Beach. Something that sets Swami's Beach apart from the rest is its tide pools. You'll have to make sure to visit during low tide if you want to see fossil shells embedded in the hard rocky reef. You also might catch a glimpse of some sea hares, octopi, and brittle stars in the pools.  
Another noteworthy add-on to this trip? The gardens are within walking distance of downtown Encinitas and the 101. If you want to grab a bite to eat for breakfast or lunch in the area, this is a great stop before or after your walk, especially if you prefer vegan, farm to table, and healthy eating options.
Insider Tips:
Like most beautiful places in North County, this location can get a bit busy and more noisy on the weekends, especially afternoons. Weekdays and early mornings are best times to hit this spot.

Parking also becomes a little challenging during peak times, but there is free parking available along the 101 if you are willing to walk a block or two.

Don't bring a stroller as there are stairs along the walking path at the Meditation Gardens.