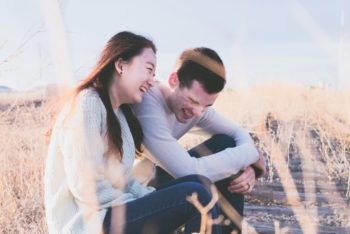 And by that, we mean your date night.
Any parent will soon tell you that once a baby arrives on the scene, date nights usually get relegated from 'whenever' to the 'if ever' category. They become luxuries, along with your hair cut, your wax, your pedicure….you get the picture.
It's not that you don't want one, it's just there never seems to be a good time for one. And even when you do carve out a small window of time for a date, is there even enough energy for one?
And then there's babysitters….
There's probably only a small pool of people who you trust with your little one anyway and so the chances that your schedule will match theirs when you do finally decide to book a date night is usually slim.
Or perhaps you do get the date booked and then the grandparents' car breaks down. Or the babysitter cancels. Or the baby gets sick. (*puts head in pillow and screams!*)
I think it was Winston Churchill who once said: "Never give up on something that you can't go a day without thinking about." And seriously, what parent doesn't go a day without dreaming of some time off with their other half? Yes, we completely agree, family date nights ARE adorable, but it's important to have time as husband and wife as well as time as mom and dad.
Use this husband in England as your inspiration. Did a lack of babysitter stop him planning a night of fun for his other half? Of course not, he simply hired an inflatable Irish bar for their back yard – complete with a baby screen TV monitor. GENIUS! And hilarious.
So, for those who don't want to quit – and who can't find a sitter in time- here's four fast date-saver ideas – minus the inflatable bar!
Check out the facilities at your local gym – a good few offer childcare as part of their membership. Granted, working out, swimming together, or playing tennis together might not be everyone's idea of a date, but it's pure adult time with the comfort of knowing your little one is just a corridor or two away with certified carers. If a workout isn't what you had in mind – look around for daycare with weekend 'Parents Night Out' options like this one in Vista. This allows you to go for an uninterrupted local dinner with your other half for a few hours!
Make it a lunch date – for working parents whose littles are in daycare, why not opt for a leisurely lunch date instead of trying to cram a date into manic evenings and busy weekends. Take an extended lunch, (or better still, use up a sick day) and have some one-on-one indulgent time with your love.
Turn your home in to a spa – Why not hire a masseur to come to your home after baby's bed time to give you both a well-deserved massage in the comfort of your own home? Luxury minus the childcare logistics – perfect!
Get creative at home – 'Paint and Sip' nights seem to be everywhere you look, but what's to stop you setting this up at home? All you need is some paint and vino, then you can create your own masterpiece at home. For those looking to make the most of their date night, think 'Titanic' and get your husband to draw you like one of those French girls (wink, wink!)
Have fun lovebirds! You really do deserve it.