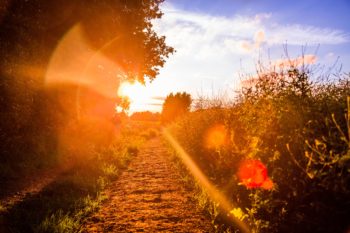 If there's one thing San Diegans are not short of, it's hiking trails.
What you WILL find yourself short of are excuses! Because when there's year round sunshine, there really is no excuse not to grab your shades, shoes and get outside.
A love of hiking needn't change when a baby arrives on the scene. Sure, the thought of taking a little one along a trail might be a little intimidating at first, but with the right planning and determination, it's TOTALLY possible! Not only are fresh air and fresh parents the perfect combo, a good hike is also a perfect way to help an older sibling burn off some of that seemingly endless energy.
With weeks of longer days still ahead of us, here's a few of our favorite infant hiking tips:
Pick the Right Carrier – With so many options to choose from, it can be a little overwhelming, so please always feel free to come in and talk to our mamas at the Boutique about age appropriate and safe babywearing. You can bring your carrier and your baby to our Babywearing Clinic with our trained babywearing consultants. TOP TIP: Get your child used to a new carrier before hitting a trail – it can make all the difference.
Stick with what you know – At least initially. Don't get too ambitious on your first family hike – go somewhere that you know well and where you know the terrain. If you want to try somewhere new, do your research and check if it's flat / stroller friendly first etc. Try and limit that first hike to an hour or two – even if all is going well, don't push your good luck!
Nap time – The hiking motion puts most kids in a carrier to sleep, so if you can, aim to hit a trail at naptime to help stick to your baby's sleep cycle. If all the snoozy stars align, this nap on the go will give you some 'me-hiking' time, or adult time with your partner.
Bare Necessities – It's tempting for any Mama Bear to try and bring everything for all eventualities, but any unnecessary extra weight is guaranteed to make the hike less enjoyable. Along with un-avoidables like diapers, spare clothes, think travel sized items for everything else, – like wipes, our 'On the Go' Think Baby Safe sunscreen (SPF 50+) in the Boutique, or the all-natural BALM! Baby Shue Bug spray. Don't forget snack fuel for you too!
Hats, Camera, Action – don't get us wrong, it's always safety first when it comes to little ones outside, but safe doesn't have to mean drab! We have a bunch of hip and trendy safe sun hats for little ones in the Boutique. We've even got some adorable 'Babiators' in store that make for the cutest baby photos (FACT!). So don't forgot your camera while hiking.
Enjoy Mother Nature guys! She's amazing – just like you are. It's a mom thing!
Need trail ideas? Check out this article on best family friendly hikes in SD.