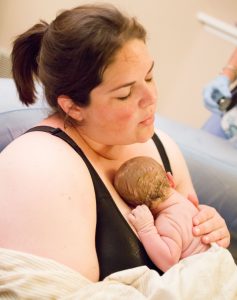 There's hypno-birthing and then there's Hypnobabies –a completely unique style of birth hypnosis.
Do you know what makes Hypnobabies different?
While both hypno-birthing and Hypnobabies strive to give mother and baby a natural, peaceful birth, Hypnobabies uses real medical hypnotic anaesthesia techniques –the same kind some people choose to undergo surgery with minus the drugs. The mind is capable of some A-MAZING things isn't it?
These techniques are from Master Hypnotherapist, Gerald Kein's, "Painless Childbirth Program" and aim to re-train the subconscious mind to perceive birth contractions in a non-intimidating and manageable light. This is ideal if you are looking for ways to release any (completely normal) fears or anxiety you may have about giving birth.  It can be especially useful to help heal those who have had a previous traumatic birth.
Rather than simple visualization and breathing techniques, Hypnobabies recognises that no two women are the same – different, personalized birth experiences are craved.  It's all about delivering an 'eyes open' birth experience, which allows mom to remain in deep hypnosis while walking, talking and changing positions. Mom is empowered, in tune with her body and her baby, and aware of her surroundings at all times.  She is not passively listening to deep relaxation and guided imagery (which we are not saying doesn't work for some). The Hypnobabies idea is that Mom is in the driving seat – she is able to control her hypnosis throughout delivery and ultimately choose just how mobile and communicative she wants to be during it.
This level of control is thought to boost confidence and calmness, resulting in a more comfortable birth experience. All the C's you want to hear as a mom-to-be right?
Some women take classes early in their pregnancy to help relax and gain confidence throughout the rest of their pregnancy, but others start much later. It's recommended that couples begin their classes no later than 32 weeks.
Babies in Bloom regularly hosts Hypnobabies Childbirth Preparation group classes, run in a 6-week series by a North County born mom and all around superwoman. Check out our class information page or visit Coastal Hypnobabies for more details and week by week class breakdowns. Partners are of course most welcome and will learn how best to support the Hypno-Mom as you works towards your dream birth experience.