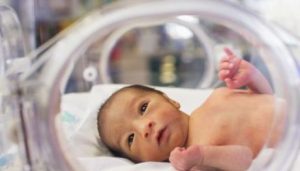 November 17th is World Prematurity Day.
In fact, March of Dimes is working hard throughout the whole month of November to put premature birth in the spotlight, claiming it as Prematurity Awareness Month. We couldn't be cheering more loudly for their wonderful work!
In a month that will see many national landmarks turned purple for the cause, March of Dimes kicked off their campaign with the 2016 Premature Birth Report Card, – a simple way of getting people talking about the problems, risk factors and ways in which we can reduce premature birth.
Unfortunately, the 2016 Report Card reveals that the nation's preterm rate has worsened for the first time in eight years. While the US as a whole earned a "C" grade, California individually got a "B". Washington, Oregon, Vermont and New Hampshire were the only states with an "A".
"The March of Dimes research shows an unfair burden of premature birth among specific racial and ethnic groups as well as geographic areas," says Dr. Jennifer L. Howse, president of the March of Dimes. "The March of Dimes strives for a world where every baby has a fair chance, yet we see this is not the reality for many mothers and babies. Babies in this country have different chances of surviving and thriving simply based on the circumstances of their birth."
Premature babies (born before 37 weeks) come with an increased chance of health issues, and may face long-term problems that affect the brain, lungs, hearing or vision. Throughout November, March of Dimes draw attention to these challenges, but also the lifesaving research, treatments and support out there for families. Let's do our part this month and join the global movement – let's keep the conversation and support going!
This recent Huff Post story of 'Preemie Prince', born at 25 weeks had us all ugly crying at Babies in Bloom – what a remarkable little man! Small but mighty. What wonderfully brave and proud parents! And what a little beacon of hope he is!
The fight, the support and the research in to prematurity must go on! Spread the word.
For the full 2016 March of Dimes Report, click here: http://www.marchofdimes.org/materials/premature-birth-report-card-united-states.pdf