Fun for Baby Classes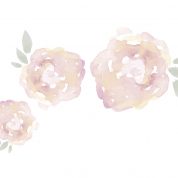 Baby & Me Barre
Get ballerina strong with baby! Moving together is great for mom and baby… it aids in bonding, easing fatigue and mood swings, and recovering from postnatal aches and pains. Moving with other moms and babies builds a support circle that can last for years!
Baby & Me Craft
Join us to make an easy craft, just in time for the upcoming holiday. No need to register, you can drop in between the times posted!
Baby & Me Yoga
Newborns to crawling – This class covers all areas – yoga for mom, yoga for baby and most importantly, an opportunity for a deeper bonding experience between mother and child.  We sing baby yoga songs, help guide our little ones through some baby yoga, and of course try to get some poses in to help support mom!  Anything goes in this class, so please feel welcomed and know you can feed, change, bounce, sit, or do whatever supports you and baby best. Mamaste!
BabyFest
BabyFest is our signature annual event that celebrates all things baby.
We bring together companies selling the best products, local experts, and new and expecting parents for a day of learning, product demonstrations, and a chance to win prizes and meet other parents.
Baby Fest is always a customer favorite! Parents tell us how much they love attending each year and how much they learn from our speakers and panel experts.
Big Brothers & Big Sisters
This class is designed for three-to-six year-olds that are about to become a big sibling. Children will start by crafting a special sign to welcome their new baby, followed by the children introducing us to their new baby brother or sister (in Mom's belly!). We'll watch a short film about what they can expect when baby joins the family and have circle time where your child will be able to practice holding a baby doll, swaddling and being gentle. We'll read a story about new babies and the big feelings that a sibling can have and end with a certificate of completion for the new big brother or sister!
Create in Color: Infant Art
Come explore art and your child's unique creativity at Monday's $10 class. Inclusive infant class designed to help your child navigate different mediums, techniques, and sensory experiences. Ages 6 weeks to 2 years.
Create in Color: Toddler Art
Come explore art and your child's unique creativity at Monday's $10 class. Inclusive toddler class designed to help your child navigate different mediums, techniques, and sensory experiences. Ages 2- 4 years.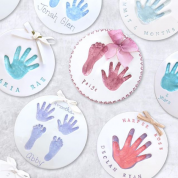 Doodlebug Designs
Looking for a quality, professional ceramic impression of your child? You've come to the right place! With our loads of experience and oodles of happy customers, you can rest assured you'll get great imprint. Pick the shape of the plate, the color, and anything you'd like it to say, we'll get started on it right away. No appointment needed, just come in anytime during the posted event hours.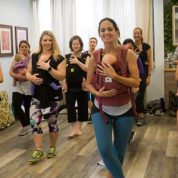 GroovaRoo
GroovaRoo is a baby-wearing dance class open to moms, dads, caregivers, and baby. We hope to create a safe, sacred, & soulful experience for you and baby. No previous dance experience necessary. Baby must be at least 6 weeks old and mom cleared for normal exercise. Please bring a soft structured carrier or wrap. (Only baby facing in, heart to heart wearing is suitable for GroovaRoo) extra carriers are available to use for class if needed. Please arrive 15 minutes early if you require assistance with your carrier.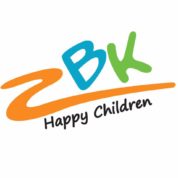 Learning to Play by Zone for Babies and Kids
Create wonderful memories and connect with your child and friends through early stimulation classes. Walk side by side with your child and understand what they need to be happy and fulfilled at each stage of development. Learning to Play is a perfect class to sing, dance, create, share, explore, and learn Spanish vocabulary. Build a happy and respectful community around your family and discover about the power of Patuque at some of our classes. Ages (6M – 4 y/o).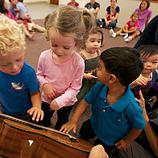 Music Together
Music Together is a research-based music and movement program designed to support the musical development of babies, toddlers, preschoolers and their caregivers. Recognizing that all children are musical, and can achieve basic music competence if exposed to the proper environment, we provide a rich array of musical experiences to unlock their potential. Music Together encourages you to bring music into your family's daily life and gives you lots of fun ideas on how to do so.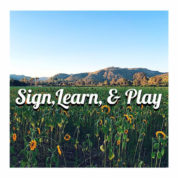 Sign, Learn, & Play
We all know communication is the foundation of a solid relationship; Teaching your baby/ toddler American Sign Language will be giving them tools to express their thoughts, ideas, and preferences. ASL opens a window into your child's mind and personality. These classes are an opportunity to learn and bond with your child while learning a new language. When it comes to learning any language, it takes consistency and practice, but you will be thrilled when your child is communicating with you. Available as a 6 week or as two 3 week mini series, it's designed for babies and toddlers 6 months-5 years old. You will be using songs, books, imaginative play to help you and your child learn the signs. Be sure to bring a blanket or yoga mat to sit on. The class will be 45 mins long, each week we will spend 30 mins learning 12-15 new signs. The last 15 minutes we will be spending on reviewing what we learned. Each class will be imaginative, fun, and educational! Each week the theme for the next weeks class will be posted. There will be an email list signup sheet at the end of each class. You will be emailed what we learned for that week so you can practice and review with your child at home and use during your everyday life!
Click here for more information on pricing and registration!
Toddler & Me Yoga
Crawlers & up – Is your yoga baby ready to take it to the next level? Join us for a little mover's introduction to yoga postures and centering practices through music, story, and play. This 30-minute class will include lots of interaction between little ones and their grown-ups, with much to keep little bodies and minds engaged. Walkers, wigglers, scooters, and climbers welcome… and multiple child families, too! Please bring a mat, which you may share.