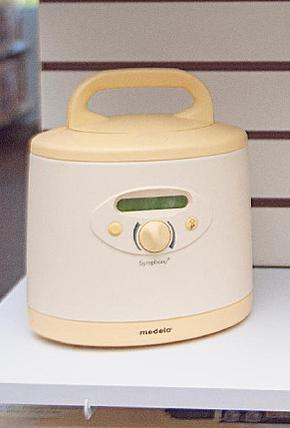 Symphony Breastpump Rentals
The first breastpump with 2-Phase Expression® technology which is proven to achieve faster milk ejection and faster milk flow.*  More efficient and comfortable.  Unique overflow protection.  Double or single pumping.  One knob control.  Whisper quiet operation.  Easy-to-clean.
Featuring the original 2-Phase Expression® technology – found only in Medela breastpumps.
Babies breastfeed in 2 phases:1. Stimulation Phase – when babies first go to breast, they suck fast and light to start milk flowing.2. Expression Phase – after milk flow or "let-down" starts, babies breastfeed with a slower, deeper suck, bringing out more milk faster.
Features & Benefits:
2-Phase Expression® technology: designed to mimic a baby's natural nursing rhythm.
Convenient: single or double pumping.
Two separate, independent membrane units: allows switching between single and double pumping by simply applying or removing the second collection kit to the breast.
Let-down button: moms can easily return to stimulation by pressing the let-down button.
Initiate and maintain milk supply: if direct breastfeeding is not possible, as well as collect breastmilk at work or during other absences from the baby.
Hospital grade: the pump's kit is separate from the pumping mechanism and protected from overflow by a specially designed membrane.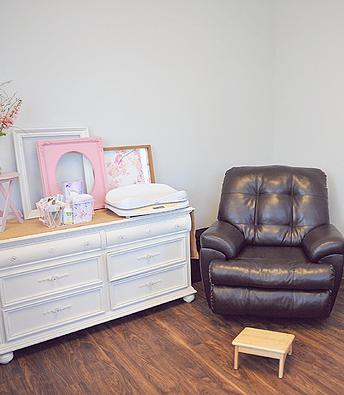 Weight Checks and Scale Rentals
Are you concerned that your baby is not getting enough breastmilk? Would you like to see how your baby is growing? Stop by Babies in Bloom and weigh your baby on our professional scale.
Our Medela BabyWeigh II scales may also be rented for home use.
For electronic measurement of baby's weight just before and just after breastfeeding. The difference between these two weights equals breastmilk intake. Ideal for both professional and home use.
Features & Benefits:
Accurately measures breastmilk intake to 0.1 oz in infants up to 44 lbs lbs.
Lightweight and portable
Convenient push-button weight measurement and easy to read LCD display
Automatically compensates for a moving baby
ZERO button compensates for blanket weight
Weights in grams or pounds/ounces
Detachable tray for easy cleaning
Operates on AC power or batteries (not included)