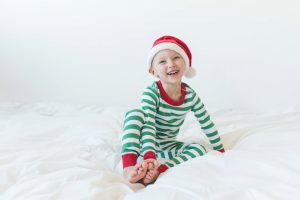 It's official. Santa Claus is in town! In fact, he was spotted looking very jolly at Babies in Bloom on December 3rd.  This can only mean one thing – it's Christmas family photo time.
When you've spent painstaking hours perfectly coordinating your family's outfits – and matching festive accessories.  And when you've spent all that time finding the right location, the right photographer, or even waiting in line to finally meet old Saint Nick, it should be as simple as one, two, three, cheese…right?
Well, not always.  Your kids might have different ideas on the day. Cue the photo frowns. Sometimes, there's simply not a smile to be found.
But don't worry, if you've not had your festive photos done yet, we are arming you with five top tips from your friendly local photographer Kelsey Smith on how to get the best (and most authentic) smiles for your Christmas photos. Parents, take note:
Potty Humor – It's crude and oh-so-effective. Asking who let the stinker out, whose feet are the smelliest, and making fart noises are the number one laugh inducers for most kids.
Movement – Tickling is one of my absolute favorite ways to get a family well on their way to a giggle fest. Putting everyone close together and telling them to tickle the person closest to them will get you winning smiles and laughs every single time. Have the kids have a dance off to loosen them up and get some pretty amazing smiles. Jump up and down and generally make a fool of yourself, the kids will love it.
Telling Kids Not to Smile – Honestly, this usually cracks even the most serious of kids. Especially the ones that aren't happy to be there in the first place.
Singing – At the top of your lungs, usually the opening song from the Lion King, as off key as you can possibly muster.
Let it Go – Focusing on getting that perfect look-at-the-camera smile can cause you to miss the in-between moments. And those are the sweetest ones.
Wise words from a mom of three and a pro. The proof is in the pudding – take a moment to check out Kelsey's website or Facebook page to see all the beaming little smiles she captures.  She runs family, maternity and lifestyle newborn sessions right here in San Diego, all year round.
Happy Holidays folks!