Although breastfeeding is one of the most instinctive things new moms do, it can often feel intimidating.
Babies in Bloom is a safe sanctuary where new moms can be vulnerable with their struggles with breastfeeding & find the compassionate, professional help they need to support their new baby.
At our breastfeeding center you'll work with International Board Certified Lactation Consultants who are here to guide you through everything you need to know about breastfeeding. Our educators are gentle, compassionate, and have years of experience teaching parents about breastfeeding.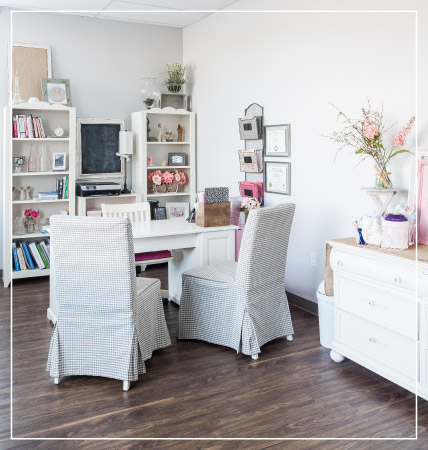 One-on-One Sessions
Our one-on-one session are custom tailored to your needs and can include:
Basic information about breastfeeding
Positioning and latching the baby at the breast
Dealing with breastfeeding difficulties that may arise
Breastfeeding twins or triplets
Breastfeeding a premature or special needs baby
Breastfeeding even when medical issues arise with mom or baby
The IBCLC Difference
International Board Certified Lactation Consultants are:
Recognized the world over as possessing the only standardized, board certified lactation credential available
Knowledgeable about up-to-date evidence-based practices in lactation as demonstrated through a rigorous exam process
Experienced in a wide variety of complex breastfeeding situations
Competent to assist mothers with establishing and sustaining breastfeeding, even in the midst of difficulties and high-risk situations that can arise
Sensitive to the needs of both mothers and children as they work to help mothers meet their breastfeeding goals
Ethical in their practice, abiding by Standards of Practice and a Code of Ethics and working within a defined Scope of Practice
To schedule a one-on-one session with an International Board Certified Lactation Consultant call 760-940-BABY.
Lactation consultations are available in our office or in your home.

Current Classes
We also offer several breastfeeding classes. These are in a group setting and are a great way to meet other new moms and learn about breastfeeding. See our class schedule here.
Breastfeeding 101
One of the key ingredients for a successful breastfeeding experience is education! With so much information available on breastfeeding, it can feel overwhelming for parents-to-be. Learn techniques that will help you both get off to a good start and avoid common problems. Topics include latch and positioning, knowing when and how much to feed your baby, and how to know that baby is getting enough. Partners are welcome and encouraged to join you!
Lactation Lounge
Do you have questions about breastfeeding? Would you like to weigh your baby and see how he/she is growing? Would you like to meet other new mothers and babies? Join us for our Breastfeeding Support Group! This group is open to all mothers in the community and is facilitated by an International Board Certified Lactation Consultant. We meet every Tuesday and Friday to provide encouragement and foster a sense of community. Registration is not required and the class is FREE.
Breastfeeding for Working Mothers: Planning, Preparing, & Pumping
Many new moms worry that continuing to breastfeed once they return to work will be too difficult. It can be done! Gain confidence and learn that with a little planning, you can successfully continue breastfeeding well beyond maternity leave.