Your North County Guide to Stroller-Friendly Ways to Enjoy Spring, continued
Spring is here and here comes the sun! Along with that opens a seemingly endless amount of opportunities to go outdoors and enjoy our San Diego landscape. Never fear, us at Babies in Bloom have weeded through the trailheads and walking paths throughout North County and come up with a tailored list of our favorite places to soak up some Vitamin D with your little ones.
For the second part of our series, our theme is "Choose Your Own Adventure." Our featured location features multiple trails to choose from depending on your time constraints, physical aptitude, and baby portability.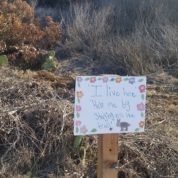 San Elijo Lagoon (Solana Beach/Cardiff-by-the-Sea, CA) –  Seven Open Trails, Seven Total Miles!
Check out each individual trail for directions and address.
The San Elijo Lagoon is one of the most diverse coastal wetlands in San Diego County. Its biodiversity offers a little bit of something for everyone, from trail enthusiasts to families with small children, photographers to bird watchers. The reserve spans nearly 1,000 acres and houses seven trails to choose from (and that only includes the ones that are currently open).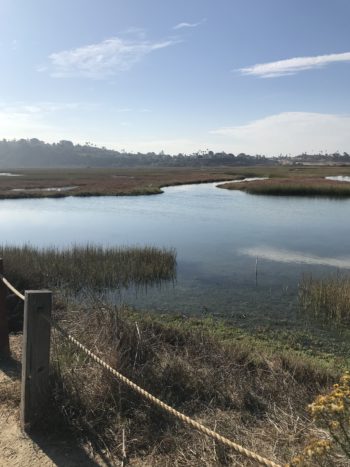 Nature Center Loop – EASY: One Mile Double Loop
2710 Manchester Avenue, Cardiff-by-the-Sea, CA 92007
Free & Stroller & Baby Carrier-Friendly, Dog-Friendly
Looking for an easy trail to walk with a stroller or a wobbly toddler? Look no further than the Nature Center Loop. This mile-long double loop of smooth trail features up close and personal views of the San Elijo Lagoon, where you will likely see many various bird species and maybe even fish splashing in the water.
This time of year, all the native San Diego plants are in bloom and thriving, making the views while you stroll all the more captivating. Scattered along the trail are benches that you can use to rest, breastfeed, have a little snack, or just take a few deep much-needed mom breaths before you continue.
An added bonus to the Nature Center Loop is that it begins and ends with…you may have guessed, a nature center! Think of this nature center as a mini museum that is free to the public and kid-friendly. In fact, it's exhibits are made with kids in mind. Open daily from 9 am to 5 pm, this center features some living animals, displays that detail the history of the reserve lands, educational tips for conservation, and more. This is a place that your children can enjoy and learn from as they continue to grow. If that's not enough of a hard sell, the Nature Center also includes outside picnic-style tables that you can have lunch on, restrooms, and with its two levels, offer expansive ocean and coastal views.
Fun fact: the Nature Center platinum certified by LEED (U.S. Green Building Council's Leadership in Energy and Environmental Design), which means that the entire two-story building is made from recycled materials and relies on solar energy, natural light and ventilation! On top of all that, the water used to irrigate the landscape is recycled!
Rios Avenue Trail – EASY: Multiple One-Way Trails (Rios to I-5: 1.16 miles, Rios to El Camino Real: 2.86 miles, Rios to Pole Road: .96 mile; Gemma Parks Trail: 1.0 loop)
Directions: I-5 to Lomas Santa Fe exit, West on Lomas Santa Fe, Right on Rios Avenue, Drive to end of Rios Avenue, with street parking available
Free & Baby-Carrier Friendly (Stroller not recommended), Dog-Friendly
The Rios Avenue Trail actually features multiple trails depending on which direction and distance you are willing to go. If you're looking for an easy one-mile loop, just east of the beginning of the Rio trailhead is the Gemma Parks Trail. Once you finish the loop, you can choose to continue further to explore the rest of the trails, just know that you'll have to turn around to get back to where you started versus a simple loop.
The Rios Avenue Trails to include Gemma Parks Trail is also a relatively smooth walking trail. Since there is a little bit of a bumpy slope at the start of Rios Trail as it starts at the end of a residential street, this might be a good trail to wear your little one. If you want to make it work with a stroller, you can carry your baby down to the start of the trail and have someone else carry the stroller down separately. Not recommended if you are going it alone with a small child unless you wear them (or they can walk relatively independently).  
The views and landscape of the Rios Avenue Trail will be very similar to the Nature Center Loop, but you will get more of the lagoon, and are able to enjoy the coastal lands from a different perspective. Like the Nature Center Loop, you will also find benches and shaded areas where you can stop for a bit, but no picnic tables or facilities, so plan accordingly!
Another feature of the Rios Avenue Trail, you can catch a peak of the Annie's Canyon Trail, the most strenuous of trails San Elijo Lagoon has to offer.
Annie's Canyon Trail – MODERATE TO STRENUOUS: One Way, From N. Rios Ave. (0.6 miles), Annie's Canyon (0.25 miles)
Directions: I-5 to Lomas Santa Fe exit, West on Lomas Santa Fe, Right on Rios Avenue, Drive to end of Rios Avenue, with street parking available
Free & Baby-Carrier Friendly *WITH A BUDDY* (Stroller not recommended)
If you're looking for a walk that is a little bit strenuous, a lotta bit unique, and a tad adventurous, Annie's Canyon Trail is a must on your Wish List. It's such a short length that you don't need to set aside your whole day to explore, but is such a wild experience, you will feel like you are no longer in San Diego County. Take our words for it, this is a place you have to see to believe.
The location is believed to have been a spiritual place for the Kumeyaay, the original native inhabitants of San Diego County. This fact only helps add to the sense of wonder of this space. During one part of the switchbacks, you'll get to go into a hollowed out cave that was believed to be a shelter for the Kumeyaay!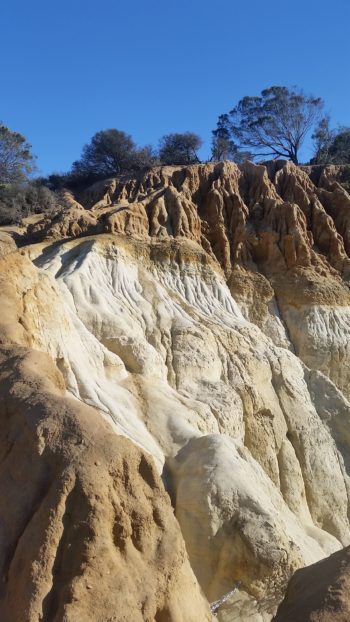 There are two ways to experience Annie's Canyon: (1) the moderate way takes you up to a beautiful overlook and you can do it while wearing a baby easily (2) the strenuous way with narrow switchbacks. If you are claustrophobic, proceed with caution!  
We have to admit, we haven't experimented scaling the strenuous path, with its steep and narrow incline in the canyon, with a baby carrier. If you are interested in trying this out with babes in tow, maybe bring a buddy or make it a family affair. That way, if it's too tough, or you're not comfortable going up with the baby, you can take turns. Just proceed slowly and cautiously. Again, since it's such a short trailhead, you have that luxury as long as you have a couple adults on hand. We don't want to ruin the surprise of the experience, but the sandstone walls of the canyon eventually leads up to some steep and narrow switchbacks that can be tricky to maneuver. We've spotted young children scaling this with glee as well as senior citizens, so do not be intimidated!
Once you reach the top of the trail, enjoy the overlook for a few minutes and get an expansive view of the lagoon and Pacific Ocean from 200-feet above sea level!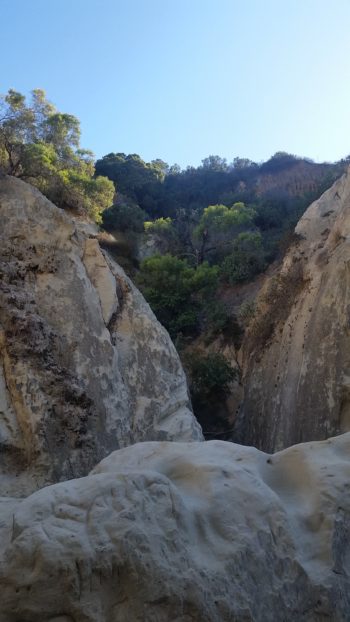 Insider Tips:
Dogs are allowed on all trails except Annie's Canyon so plan accordingly.

Parking at the Nature Center is limited so we recommend visiting this trail on a weekday.

The First Sunday of each month is

Family Fun Day

at the Nature Center from 11:30 am to 1:30 pm.

Remember, this is a nature reserve which means that the land is protected! Resist the temptation to walk off trail and be sure to not disturb the plants or wildlife you may see.

If you have allergies, consider taking any remedies or medication beforehand to help ward off the sniffles and itchy eyes!

Bring plenty of water! It gets hot, ya'll. Also be sure to wear hats, sunscreen, and anything else to protect from the sun. There are some shaded areas, but most of the trails have good stretches of direct sunlight.

Check out these pamphlets for information about the plants and animals that live on the reserve. Great learning resources for parents and children alike!

Rios Trailhead

&

San Elijo Brochure

Notice a lot of construction around the lagoon? The San Elijo Lagoon Conservancy is in the middle of a multi-phase Restoration Project, which explains the construction and closed trails. Interested in learning more? Check out

this page

.