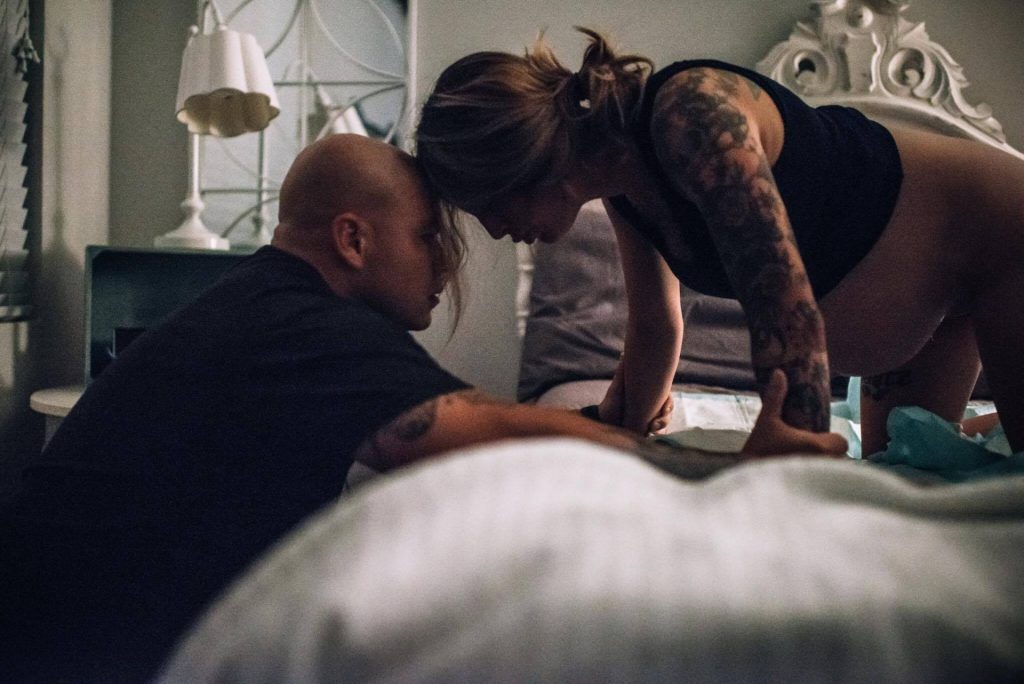 A birth story graciously shared from one of our birth center families…
On Saturday evening, I was sitting on my kitchen counter waiting for dinner to finis cooking, crying my eyes out and texting my midwife because I had decided our Sunny changed his mind and would never be born, that I would be like that South American woman who was pregnant for 20 years (calcified pregnancy). It has always been my mantra that baby will be born at the perfect time for him but those last few days of pregnancy as many already know are so physically and mentally exhausting. I was SO done!
Sunday morning, we all awoke before the sun per usual thanks to my two lively Wild Flowers. I didn't have much of an appetite and felt completely restless! I had a lower backache so I decided to soak in the bath for a while and hey since I was already there I might as well wash my mane, too. I noticed I was having very irregular contractions but I had been having those for about two weeks so I ignored them. We decided today was a great day to clean out the garage and spent all morning organizing and sweeping. At nap time we all laid down to rest, I had sort of been in a strange fog all morning and was sure I was just really tired. I couldn't sleep. I noticed I was having more and more contractions, more than I had had in the last few weeks. I wanted to get excited but I felt nervous instead and then decided I'd just be in denial. Jason had been watching me like a hawk all day and I kept telling him to "stop being a freak" but he could see all of the things that I couldn't (he's basically a birth and breastfeeding professional at this point). And even though it was football Sunday with his favorite team playing, he made the beautiful suggestion of going to get milkshakes at my favorite place, all hail In-N-Out Burger. It's been a little family tradition of ours that when I'm in labor we go eat at In-N-Out and then magically a baby appears a couple of hours later! But it didn't matter because I wasn't really in labor. By the time we got back home though I was having to shift my focus on breathing through my contractions so I suggested IF this was the real deal maybe we should take a walk around the neighborhood. We strapped our hyperactive sugar crazy Wild Things into our snazzy double stroller and started walking. We didn't make it far, maybe an eighth of a mile, so I had another great idea! Lets go back home and cook dinner. I was slicing chicken and preheating the oven so J lovingly brought a fan down to help cool the kitchen (me) down. Then the swaying started. With each contraction I was having to move with them, in my mind it was like the movement was breaking through the wall of pain. By this time I was trying (failing) to cook dinner in order to shift my focus away from my labor, my shirt was off, I was in my favorite skirt, and swaying with a piece of raw chicken and a knife in my hands in front of a fan. But it was fine because I wasn't in labor. Jason wanted me to text our midwives but I didn't want to. So…he did. And our friends to watch the girls if needed, and our birth photographer. That guy had it all together!
After dinner was finished baking, which no one ate because apparently it was the worst dinner I have ever made so the girls at PB&J's instead, I was hanging out on my birthing ball in the living room. Painter arrived at my knees and climbed into my lap and hugged me while we rode the waves of a few more contractions together. The love and power I felt in those moments really energized me. I'll cherish that memory forever.
With my new burst of energy I had my best idea yet, My hair was still pretty damp and in a messy bun from my bath earlier in the day. Obviously this was the prime time to blow dry it! I carried my birthing ball upstairs and busted out my blow dryer which I haven't used in four years and went to town. Shifting my focus away from my contractions while swaying on my ball and blow drying my hair. I wish I had a picture of that, really.
Jason got the girls into the bathtub. With my hair dry and the way I wanted it, I moved into our bed. I could hear the girls giggling in the bath tub and wished I could be in there with them too. I love them so much. Which reminded me of my favorite birthing story from Spiritual Midwifery by Ina May Gaskin. In the story the mother thought about all of the people she loved and appreciated while she was working through each contraction. I really loved that idea and decided that was a great thing to try out. Labor was getting challenging and I was very tired. With my next contraction I was rocking from side to side with my eyes closed really focusing, "I love my family. My children and my husband. My marriage. I am so grateful to be able to give this gift to my baby. I am so happy to meet my son soon. I am so grateful for my midwives and their support." I repeated these over and over in my mind until my contractions would subside.
The girls came in to kiss me goodnight, Vaughn looked at me and said "You can do it mom, I love you!".
I love them, I love them, I love them.
Labor was getting more intense and I was starting to feel nervous again. Jason arrived at the perfect moment. I moved over to my birthing ball and held onto the bed while I swayed through the energy of those contractions. Jason was reading my birthing affirmations, timing my contractions, texting my midwives, and bringing me a lot of peace. This guy. The perfect Dude-la.
At some point our friends arrived and were watching TV downstairs which was reassuring because the girls could stay asleep in their own beds. So grateful to not have to worry about them.
Here is the realness. Birth is hard. Labor is hard. As I find out each time I give birth, you do not have to be a Super Woman with super powers. You are able and capable as a Wombman. There is a strength within each of us that we can not channel until we are right there in the thick of it. It's a power that is thousands of years old that lives within us and it is pure magic.
In between contractions I was very aware and lucid, Jason and I were chatting. "I can do this right?" I kept asking him. I had read a quote that I loved once, it went something like..your contractions aren't stronger than you because they ARE you. I was thinking about this through my next contraction. My focus shifted then to "I can do this". I repeated that to myself in my mind and out loud for the next several minutes. Jason said to me, "Lashel says we can go to the birthing center whenever we're ready."
I waited for another five minutes and then I realized that IF she did really say that…then I must really be in labor….AND  I  must be fairly close to birthing him….if she said that.
"Okay."
Jason grabbed our bags and hustled down to the car and came back upstairs to get my ball and help me down the stairs. When I got to the bottom of the stairs I see our friends hanging out on the couch (I'm so tired I really wished I was doing that too) and I give them a thumbs up. We made a pit stop by the front door so I could work through another contraction and then slowly got outside and into the car. With my eyes closed I kept trying to keep my body relaxed. I started to feel discouraged because all of the sudden my contractions which were pretty intense then became managable. And then we were there! The birth assistant arrived shortly after we did and unlocked the doors for us, as I was getting out of the car one of our midwives arrived and walked in with us, I looked at her.."I am so glad to see you." And I was.
We walked into birth room number Two. It was dark and quiet, it was perfect. Safe.
I put my hands on the bed to ride through another contraction and
POP
my water broke. And then I felt something strange but familiar and totally out of my control. He was coming and my body was pushing him out.
"I can do this, I can do this, I can do this".
I climbed onto the bed and stayed on all fours, I couldn't imagine being in any other position (which is interesting because I have said before I have no idea how women birth this way and I could never see myself doing that..but I was).
"I can do this, I can do this, I can do this"
"You ARE doing this!" my midwife said. Was I really?
"This is really hard."
It was really, really hard.
Jason was kneeling on the other side of the bed, our faces smashed together. That was the only  way I was able to get through the most intense moments of my entire life. It was easily the most challenging few minutes of my life, even having given birth before, every birth is different.
In between these massive waves that were helping me get closer to meeting my son, I had a thought and said to Jason "I CAN NOT BELIEVE OUR BIRTH PHOTOGRAPHER IS MISSING THIS! WE PAID SO MUCH MONEY!"
Our wonderful midwife was coaching me through each contraction, I loved her so much and was so grateful for her especially in those moments, I needed her voice. "He has blonde hair!!".. oh my god, I have another blonde baby. Hearing those few words filled me with love and happiness and the final burst of energy I needed to welcome our sweet boy into this world.
Then our birth photographer arrived. Oh my god, she arrived!
"I can see his face!"
And then the whole energy of the room shifted. I could physically feel the power in the air. The love and strength of every woman who has ever been. Leaning on my rock for strength feeling the intense energy vibrating through the air and my heart that felt like it was literally bursting with love, I roared my son into existence.
I could not believe it. I looked around at each women in that room, looked at my husband, looked at my new son.
My heart had burst wide open, shattered into a million pieces in this moment and I was born again too. I have never known Love until now and I am sure every single person felt it too.  It was electric.
"Peace on Earth begins at Birth"
Today our Sunny is one week new and I still am in disbelief over what we all experienced but what I can tell you, the love I have inside of me it's life changing.