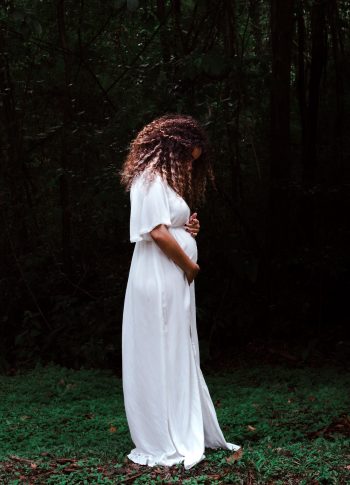 Baby showers are such a tradition in our society that its almost taboo to suggest doing anything but. That doesn't mean that deep down there aren't a lot of women out there who might find the virgin drinks, cheesy games, gift opening, and all the belly cupping a particularly painful way to spend the last days of their third trimester.
So, for the sake of open mindedness, read on and consider these Baby Shower Alternatives for a gal friend with alternative taste.
Postpartum Party
After giving birth, so much of the attention suddenly shifts from the pregnant woman to the newborn child. Even the new mother's attention drastically shifts. A big risk factor to postpartum depression and anxiety is the lack of a support system, which makes finding ways to let her know you are there for her all the more important. Hosting a Postpartum Party in her honor is the perfect way to show a new mama that you and the rest of her community are there for her through this big life change.
The beauty of a Postpartum Party is that no real rules apply except this: Mom is front and center. In planning the party, think of the honoree. What is her idea of a perfect gathering? Is it relaxing at a spa with her closest girlfriends? Does she like small get-togethers such as a potluck-style BBQ with friends and family and lawn games? Might she miss getting dressed up and going downtown to a hip restaurant for food, drinks, and lots of selfies? The purpose is to remind this new mom that even though a lot in her life has changed, and she too may have changed in rapid time, someday soon, she will feel herself again.
In the first few weeks after baby has arrived, listen to what your loved one is talking about. Take note of what she seems to be missing, and find a way to give that to her, even if just for one day. The other important decision about a Postpartum Party is when it should happen. Again, this is so contingent on the individual woman. Some women might be itching to do ANYTHING only a couple weeks after the baby is born. Others might not feel up to it until six to eight weeks out. Listen to her needs, but also know how to differentiate between a woman who is still healing, and a woman who may need a nudge to do some self-care for a change. If you're planning this party, already you're showing that you care a great deal for this person, now time to make it happen.
Best part about waiting 'til after the baby is born to celebrate your loved one's foray into motherhood? She can have a glass or two of her favorite alcoholic beverage to celebrate the occasion. While that may require a bit of planning and prep work if she's breastfeeding, she's earned it.
2. Baby-ette Party
By now, we all probably are familiar with the concept of a babymoon, the honeymoon-like vacation a couple takes before the baby arrives. It's an opportunity to connect with your family of two before it becomes a family of three (or more). We are definitely not suggesting sacrificing the Babymoon for a Baby-ette Party, just reminding you that maybe you should also connect with your closest friends before your attention and priorities suddenly change with the arrival of your child.
Naturally, as a pregnant woman, this venture will look a lot different than your typical bachelorette party, but the concept is the same. Steal some of the cheesiness and outlandish fun and channel it into a preggo-safe outing. A Baby-ette Party should get this mom-to-be out and about, push her a little outside her comfort zone (but not too far – remember there are pregnancy hormones to consider) and offer her a last hurrah before becoming a mom. It may be a while before she can party this way again especially with the same group of women, so live it up and make this a tradition within your circle of friends for each of you.
3. Sleep-a-thon
According to a recent study, new parents lose 44 days of sleep during the first year of a baby's life. Only after you've become a parent do you truly know the precious value of good quality sleep.  Many women in their third trimester, and some even before, struggle with sleep before the baby's even arrived.
Resting and logging zzz's is so so important leading up to the birth, but so often, pregnant women feel competing pressure and stress to get everything ready in time. Add in other children and work obligations, and often sleep takes a backburner on the list of priorities.
This is where a Sleep-a-thon is just what the midwife ordered. Depending on your special mom-to-be's circumstances, the objective is to rid her of distractions, help clear off some things on her plate and give her a day or weekend's worth of time to rest, relax, and ultimately sleep as much as possible. Sure, a day or two doesn't really sound like much compared to the 44 days this new mom is about to lose, but it's definitely more than she would get otherwise, and is the perfect way to show her you care.
You can treat her to a night's stay at a local resort or hotel alone or with her partner in tow. While she's away, you can help watch the other kids, clean the house, set up the nursery, or do laundry with the help of other friends and family. The tasks won't seem as daunting if there's a small group to split responsibilities around.
If your mom-to-be is more of a homebody and sleeps best in the comfort of her own home, find out what errands she still needs to get done and help with those. Take the kids out for a day at the zoo or your house for some fun activities and a movie night. Think though all the possible things that might interfere with your pregnant gal's ability to relax and let her transfer the mental load to you.
4. Meal Train
Maybe you have already heard about Meal Train, a website that helps simplify the organization of meal giving after a significant life event. Meal Train was actually created after the co-founder's wife organized meal deliveries to a family in their neighborhood after they had welcomed a new baby.
Meal planning, prep and execution is such a daunting task for new parents. Even the idea of ordering out or delivery can be stressful and costly with so much else to worry about. Meal Train helps any new parents' village of support come together and help get them fed!
Since we're talking about possibly replacing the concept of a Baby Shower with an alternative, this is where you send out invites, make calls, get connected with friends, family, co-workers, and other loved ones of the parents-to-be. Ask them to commit to at least one meal. They can either cook a meal, pick up take out, or schedule the delivery – depending on their cooking abilities and proximity to the family. Ultimately, though, the idea is to alleviate some stress and ensure both parents are getting enough to eat.
Planning a Meal Train involves some inquiries with the expectant family. Ask them what days they may need meals the most, find out food preferences, favorite meals, dislikes, allergies, dietary preferences. It won't be helpful to them if the food delivered is something they can't or won't enjoy.
Lastly, if you've taken the role of organizer in this endeavor, follow through by sending a thank you once someone delivers their planned meal. While the new parents are going to be so grateful for the help, they may not have time to send out a thank you card right away or at all, so taking that worry off their hands will be icing on the cake.
5. 100 Days Celebration
Traditional Chinese, Japanese and Korean cultures believe strongly that the first 100 days of a baby's life is when the baby and new mother are most vulnerable, and they are expected to stay inside to avoid illness and injury. Additionally, in the past, it was rare for a baby to survive the first 100 days so, when they did, it was worthy of celebration. For this reason, it was important to wait to celebrate until after the baby arrived, and today, its still considered unlucky to throw a shower for an unborn baby. The 100th day marks the third month postpartum, or the baby's fourth trimester, meaning the baby is now a full year old.
Each country has its own variation of the concept. Koreans call the celebration, Baek-il, and in Japan, it is called Okuizome, or baby's first eating ceremony. The Chinese have a Red Egg and Ginger Party to celebrate the baby's first 30 days in addition to another ceremony for the 100th day.
If you choose to host a 100 Days Celebration for someone special, you can select a tradition or two to honor its history, such as cutting the baby's hair (just a lock) to commemorate the child's independent existence or have the oldest person in attendance 'feed' the baby to symbolize longevity. You can serve red eggs and ginger or dress the baby in red to symbolize good fortune.
Ultimately, the special wow-factor to this party will be the added joy in celebrating the baby earthside instead of in utero. You're also able to congratulate the new parents publicly for making it past what most consider the toughest stage of parenting. Doesn't that sound worthy of a party?
6. Blessingway Ceremony
A blessingway ceremony is an old Navajo tradition meant to cultivate positive and bless the pregnancy. Blessingways are still celebrated in modern time, and are becoming a popular baby shower alternative.
There's a reason this practice is gaining popularity — the ceremony is meant to help prepare a woman with the transition to motherhood versus the typical focus on gifts for the baby. With so much more information out there about ways to prevent postpartum depression and anxiety, women are looking for ways to help this important life change happen with intention. This is an especially great option for the mama-to-be who is artistically expressive, sentimental, or in need of some healing before giving birth.  
A blessingway is typically on the more intimate side, with only close friends and family in attendance. The pregnant mama usually wears a crown of flowers and a common activity is to have the baby bump decorated in henna or body art. The mother-to-be is often pampered with a foot soak and massage, sometimes administered by the attendees. The intimate setting also allows for some time to connect and share blessings, stories, advice, or inspirational words.
Arts and crafts are common at blessingways via stone painting to provide encouraging words for the mother that she can place around her home, and bringing gifts that mom can use to make a birth altar. A bead ceremony is also common and requires each attendee to bring a special bead that will get made into a necklace for the mother to wear during the last few weeks of pregnancy and during birth!
After reading this, you might just be motivated to find a way to do a little bit of all six of these options for that special expectant mom in your life! There are no rules against having a Blessingway-100-Day-Meal-Train-Sleepy-ette-Postpartum-Baby-Shower-Celebration, is there? We think not. Happy planning!