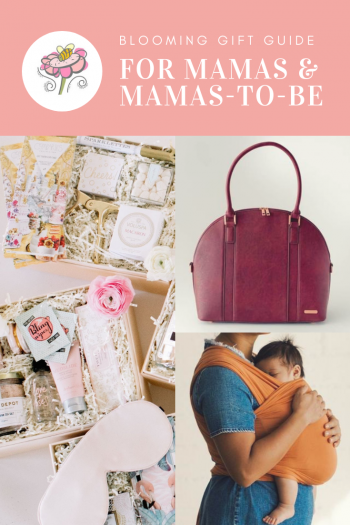 Ah, the art of gift giving. So often, this crafty endeavor is one of those things that either comes naturally to you or is a small form of torture. Which is it? Are you the person who has made multiple Pinterest-worthy DIY creations for your loved ones over the years, or do you rest more comfortably in the category of people who bemoan any special occasion that comes up too quickly on your calendar?
No matter where you fall on the above spectrum, there is an inherent pressure to pick the perfect item for that special someone. Even the best of us gifters feel the strain at times, which makes a trusty gift guide all the more appreciated when needed.
Babies in Bloom is in the business of supporting families from pregnancy to birth and beyond, and we're pretty sure that from the time of conception to forever, you and your family will have plenty of gifts to give. Don't you worry – support is here! Our one-of-a-kind curated Blooming Gift Guides are tailored to meet the specific gift-giving needs of our community.
Read on for our first guide dedicated to Mamas & Mamas-to-Be. Whether you're invited to a baby shower for a dear friend or want to send a special present to a woman in your life about to give birth, this gift guide will help remind this new mom that caring for, honoring, and celebrating herself is just as important – if not more so – than the adorable baby that is about to arrive.
You're sure to score some bonus points for thinking outside the box with these thoughtful gifts! Not sure where to grab these awesome items? Never fear, most are available at our Babies in Bloom boutique (in-store or online).
Babies-in-Bloom Presents:
Blooming Gift Guide for Mamas & Mamas-to-Be
Easy Naps and Calm Nights Tea – $17.95
Every family needs this tea in the pantry! A soothing and relaxing blend that encourages calmness and entices sleep. Perfect to sip after a bath on one of those restless preggie nights. It also makes our favorite drink for overstimulated toddlers, mix one cup of hot tea and a teaspoon full of raw local honey to a cup of cold organic whole milk for a lukewarm calming treat.
A Little Something for Mama to Be – $24.95
Pregnancy brings it all on, so here's special gift that says "I get it. This will help." 6 piece set includes travel sized deodorant, body wash, belly butter and oil, and lip balm in a sweet reusable non-toxic, PVC-free plastic zipper pouch.
Fox Box Pre-Curated Gift Box – $32.00 and up
Fox Box is a LA based company started by three women wanting to create beautiful gift boxes as a way to create stronger relationships. With an assortment of gift boxes available, Fox Box is sure to have the perfect curated gift for the one lucky mom you're shopping for. Take the Beauty Box that retails for $100 and includes a Bkr water bottle, Tony Moly sheet masks, a gorgeous BOXFOX rose quartz facial roller, a woven french market tote and rose facial mist.
Nurture – A Modern Guide to Pregnancy, Birth, Early Motherhood — and Trusting Yourself and Your Body – $18.95
Nurture is the only all-in-one pregnancy and birthing book for modern mothers-to-be and their partners who want a more integrative approach. Author Erica Chidi Cohen has assisted countless births and helped hundreds of families ease into their new roles through her work as a doula. This beautiful, comprehensive and judgement-free pregnancy companion covers everything from the beginning months of pregnancy to the baby's first weeks. Including supportive self-care and mindfulness exercises, trimester-specific holistic remedies, nourishing foods and recipes for every month of pregnancy along with more than 40 charming and helpful illustrations, and expert tips for every birth environment, itƒ??s got everything modern mother would want to know: fetal development, making choices for a hospital, home or birth center birth, the basics of breastfeeding, tips on what to expect postpartum and more.
The First Forty Days: The Essential Art of Nourishing the New Mother by Heng Ou, Amely Greeven, Marisa Belger – $22.46
The first 40 days after the birth of a child offer an essential and fleeting period of rest and recovery for the new mother. Based on author Heng Ou's own postpartum experience with zuo yuezi, a set period of "confinement," in which a woman remains at home focusing on healing and bonding with her baby, The First Forty Days revives the lost art of caring for the mother after birth. The book includes 60 simple recipes for healing soups; replenishing meals and snacks; and calming and lactation-boosting teas, all formulated to support the unique needs of the new mother. In addition to the recipes, this warm and encouraging guide offers advice on arranging a system of help during the post­partum period, navigating relationship challenges, and honoring the significance of pregnancy and birth.
Solly Wrap – $64.95
Lightweight, easy to put on, Solly Baby wraps give you and your little one unparalleled closeness and comfort, less crying (it's proven!), and reduced rates of postpartum depression.                                        
Pregnant Belly Salve – $17.95
This salve effectively prevents stretch marks and relieves the itch of stretching skin. Wonderful for regular moisturizing in the mornings, evenings or anytime!
Organic Herbal Sitz Bath – $5.99
Take care down there with natural herbal compresses filled with organic herbs traditionally used to soothe and comfort down there during pregnancy or after childbirth. Packed in easy-to-use, individual herbal sachets, each one is perfect for one use.
Original Belly Bandit – $49.95
The Original Belly Bandit Belly Wrap features an uncovered, latex-free design with medical grade elastic to help slim and support your belly, waist and hips post-pregnancy.
Vintage Pearl Custom Products – $35 and up
Our custom jewelry is hand-stamped with your names, dates or meaningful
phrases, making them a special keepsake. Our desire is to design and create beautiful handmade pieces and personalized jewelry that will connect with your heart and soul. You will love to give our pieces as gifts, we have the perfect piece for everyone.
Ju-Ju-Be BFF – SALE $108.00
This bag will be your BFF. It has tons of pockets and organization…so much you won't know what to do with it all. The BFF comes with detachable shoulder straps and messenger straps.
Rotunda Bag – $84.95
Our sophisticated Rotunda diaper bag brings you an elegant combination of style and thoughtful function while you're out and about with your little one. It's a classic piece you can flaunt even after you're done changing diapers.

Nursing Pillow – $43.95
The My Brest Friend Original Nursing Pillow was developed in a laboratory of new moms, babies, and breastfeeding experts who set out to create a nursing pillow whose sole purpose was to answer all the needs of nursing moms and babies. 50 prototypes and a global patent later, the nursing pillow is loaded with features moms love.
Simple Wishes Hands Free Pumping Bra – $38.95
The Signature Hands Free Pumping Bra gives moms the valuable gift of time by freeing up their hands for other tasks or allowing them to simply relax while using their breast pump. The patented design is adjustable in size, using high quality Velcro, to sustain a perfect fit over time as a nursing mother's size changes. Straps and 1" Center Panel included to help achieve the perfect fit!
Adjustable Nursing Stool – $33.95
My Brest Friend's nursing stool can help a breastfeeding mother minimize lower back, shoulder, neck, and wrist pain by helping her to maintain a supportive, comfortable position while nursing.